News page is only available in English
Détails
On February 6th and 7th 2019, Sweden's smartest industrial event, Industrimässorna 2019, takes place in Malmö 2019.
As the translation partner of the event, idioma will provide consulations regarding translation services and localization to both exhibitors and visitors who are interested in expanding to new markets.
We will be happy to meet you at stand no. B 25B!
P.S.: If you wish to obtain tickets to visit the fair, please let us know at Cette adresse e-mail est protégée contre les robots spammeurs. Vous devez activer le JavaScript pour la visualiser..

Détails
We wish you a wonderful holiday season and a successful New Year 2019!

Please note that our Prague Production Center will be closed during Christmas (December 24–26, 2018) and on January 1.

However, you can always use our 24/7 online ordering system at translation.idioma.com to get instant translation estimates and place orders.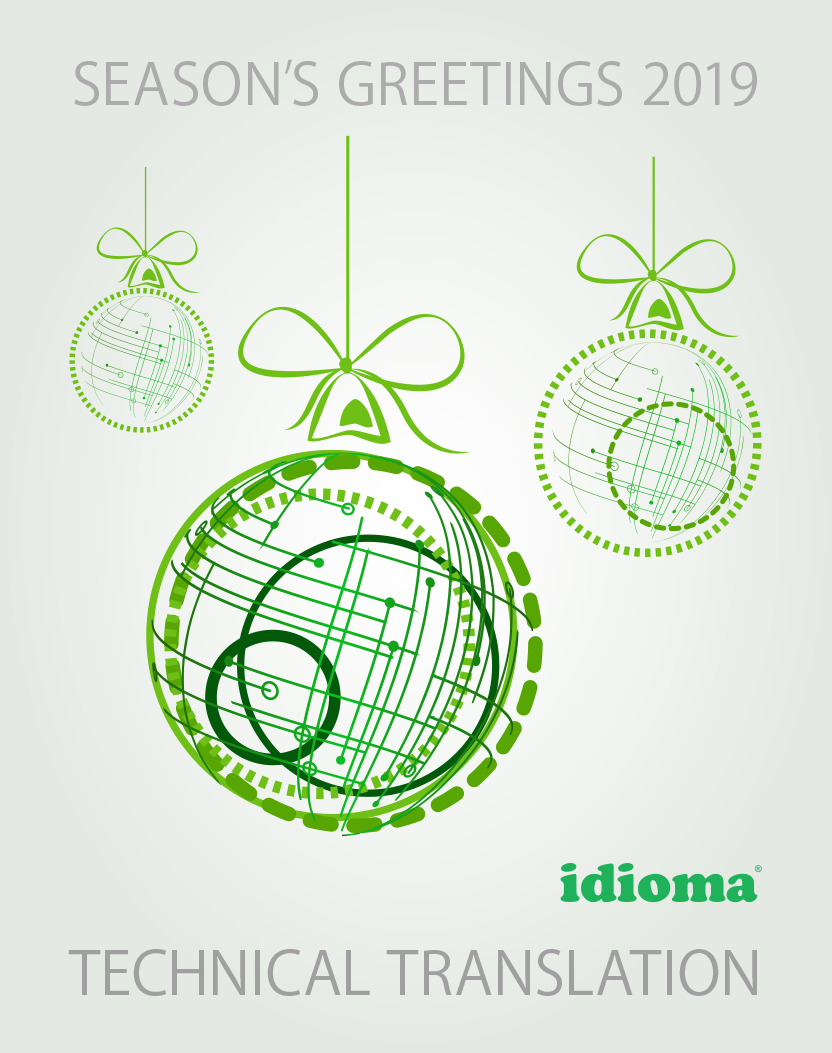 Détails
Sales representatives of idioma are attending the International exhibition for metal working (AMB 2018) from September 18th to 22nd 2018 to talk to industrial manufacturers about their translation needs.
Looking forward to the new partnerships!
Détails
As of July 1st 2018, we have become a member of tekom - European Association for Technical Communication.

Détails
Our European sales representatives will be present at
Automatica 2018
, the leading exhibition for smart automation and robotics
that takes place from
19th to 22nd June 2018 in Munich.
To learn more about how to become successful internationally with multilingual manuals and catalogs translated by idioma, just make an appointment with our sales representative via
Cette adresse e-mail est protégée contre les robots spammeurs. Vous devez activer le JavaScript pour la visualiser.
.
Détails
Held inside Manufacturing World Japan 2018, DMS (Design Engineering & Manufacturing Solutions Expo) is Japan's largest exhibition gathering all kinds of IT solution providers and attracting professionals looking to buy IT solutions for their business. This year, the number of exhibitors is expected to reach 2,600 at the Tokyo Big Sight venue.
Meet us at our booth (E26-40) to learn about out translation service and latest trends in technical translation. If you plan to visit this exciting event, please feel free to contact us in advance at Cette adresse e-mail est protégée contre les robots spammeurs. Vous devez activer le JavaScript pour la visualiser. to receive your entrance ticket. We are looking forward to seeing you!
June 20th (Wed) – 22nd (Fri), 2018
10:00 – 18:00 (last day until 17:00)
Détails
Our sales representatives will be present at Eisenwarenmesse 2018, the largest and most international exhibition worldwide that takes place from 4th to 7th February 2018 in Cologne.

To learn more about how to become successful internationally with multilingual manuals and catalogs translated by idioma, just make an appointment with our sales representative via Cette adresse e-mail est protégée contre les robots spammeurs. Vous devez activer le JavaScript pour la visualiser..
Détails
Our sales representatives will be present at the Metav 2018 exhibition that takes place from 20th to 24th February 2018 in Düsseldorf.
We are looking forward to make new contacts among German and international manufacturers and talk about their translation needs.
If you wish to make an appointment with our sales representative, please let us know at Cette adresse e-mail est protégée contre les robots spammeurs. Vous devez activer le JavaScript pour la visualiser..
Détails
Our production center runs no matter what.
If you fight with end-of-the-year deadlines, our language factory is open for you even between the Christmas and New Year's festivities!
We will help you with last minute changes to your multilingual 2018 catalog or website and of course also with any express translation need.
Are you an LSP with a need to cover more volume or delicate language combinations? We can provide full LSP Back-office services for you.
Just go to our e-shop that runs 24/7.
Détails
On November 29, 2017 idioma® will exhibit at the JTF Translation Festival held at Arcadia Ichigaya in Tokyo. The JTF Translation Festival is Japan's largest annual exhibition for translators and LSPs. We will introduce our core ISO:17100, ISO:9001 and ISO:18587 certified translation services.
Admission to the corporate exhibition space is free and registration is not necessary. We look forward to seeing you there!
If you have any questions please email us at Cette adresse e-mail est protégée contre les robots spammeurs. Vous devez activer le JavaScript pour la visualiser..
Exhibition details:
Date: November 29 (Wed), 2017 9:00~17:30
Venue: Arcadia Ichigaya, Tokyo
Our booth: "Fuji" Hall 3F